Why Buccaneer
Style & Performance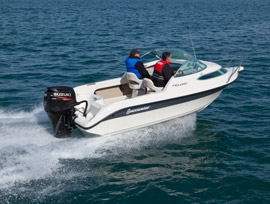 With 17 models across 5 different ranges, there's a style to suit everyone. And while each model has its own unique benefits and features, there are certain features shared by every Buccaneer boat – they handle superbly and are stable, easy driven, and give a soft, smooth and dry ride. They're also designed (and tested over the years in power boat rallies) to be very fuel-efficient.
Buccaneer boats offer the perfect marriage of form and function – where stylish good looks meet practical features (such as the maximisation of usable cockpit space) and unparalleled performance.
Superior detailing and finishing, stylistic
features to add that extra magic.
---
Construction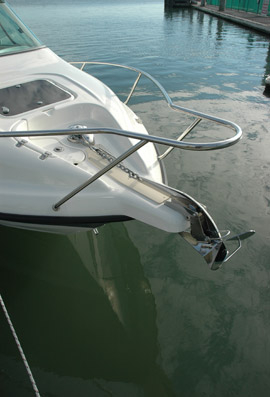 From lay-up to launching, quality is never compromised on a Buccaneer boat. Over the course of hundreds of hours, highly experienced craftsmen build each boat, with an attention to detail that begins with creating the fibreglass mould and continues on to the very last screw head.
As well as this unrelenting attention to quality, we also pride ourselves on our commitment to continually improving the manufacturing process, finding ways to enhance the style and performance of Buccaneer boats.
It takes real craftsmanship to build a Buccaneer.
'Finish' isn't just what's done on the surface, for us it begins with creating the fibreglass mould. Quality starts at Step 1, and continues on to the very last screwhead.
We select only premium suppliers to provide our components, each offering their own robust warranties.
---
Stiffer, Stronger, Lasts Longer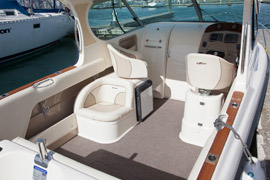 Using industry-leading technology and advanced composite adhesives, Buccaneer Boats are able to manufacture a full stern-to-bow fibreglass hull liner (hull-within-a-hull with foam filling). The end result is a rigid hull with minimal wood in the construction; significantly increasing the boat's longevity and giving a quieter and much softer ride.
"Buccaneers have a reputation for solid construction, quality fittings and superior handling... Putting a Buccaneer together is a fastidious, time-consuming, not-to-be-rushed process, but the end result speaks for itself…"
- Boating New Zealand July 2012
---
History and Reputation
In business for 40+ years, with the same boating enthusiast still at the helm.
We have a long-standing team, and many of our staff have been with us right from their apprenticeship.
Buccaneer have been instrumental in changing the apprenticeship scheme to ensure boat building training was more specialised to composite Trailer Boat building.
---
Overall design benefits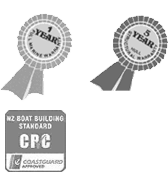 Due to the design of the hull, in rougher conditions Buccaneers are a nice dry boat.
All have instrumental panel space at the helm for your electronics
5-Year Hull Structural Warranty to first Retail Purchaser

1-Year Full Marine Warranty

to first Retail Purchaser

New Zealand Boat Building Standard, Coastguard approved