Testimonials
John McGregor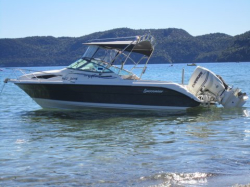 I've been a boat owner for the majority of my life and have owned, raced and experienced a range of different brands of boats, but since owning my first Buccaneer over 30 years ago I've been so satisfied with them that I've gone on to own 5.
I've had two runabouts, a 720, and have just sold my previous 605 to replace it with the latest 605 'Excess'. One the reasons I've stayed loyal to the Buccaneer brand is the great re sale I've always experienced. This has been a testimonial in itself to the design and build quality of the various models regardless of if they were intended for fishing, skiing or just general boating.
The reason that these boats are so suitable for a range of end uses is that Gerry Gerrand the designer and builder lives and breathes boats and fishing 24/7. It's the time Gerry spends out on the water that gives him the understanding of what boat owners require.
During the build of my current 605 Excess I was able to visit the factory in Hamilton not only see the progress on hull number 5343 but also to spec it up with my choice of hardware and instrumentation from the extensive range available. I've optimised this boat to be everything I wanted for "me time" -fishing on Lake Taupo- and now that my Grand children are keen on coming out on the water, ride comfort, dryness and most importantly safety are paramount.
In construction Buccaneer use a unique one piece cockpit liner system giving the duel benefits of high quality clean finish and improved structural strength.
Over the years Buccaneer have kept ahead of the game (above the curve) on new products, motors, accessories, trailers as well as tasteful modern colour schemes. Although Buccaneer have an extensive range of dealers nationwide for new boat sales and back up, I haven't had the need to get too well acquainted with them after purchase due to the quality of the product!
For that and for the last 30 + years of safe boating in smart looking trailer boats I'd like to thank Gerry and all of the team at Buccaneer Boats.
P.S. and I'm a fussy bugger with my boats......